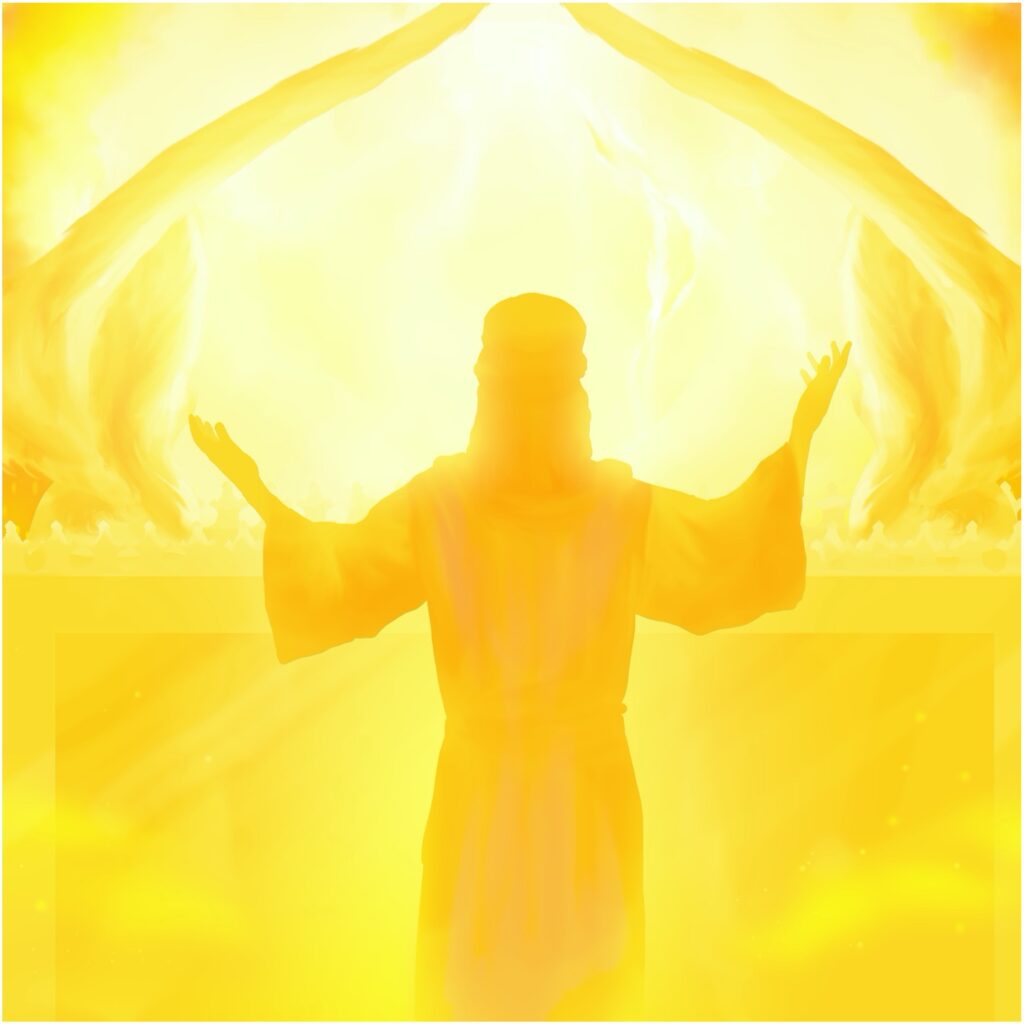 28.10 Blessing by Christ of twin souls who pass into the Sixth Sphere of Light
The two beings are kneeling down and are like marble statues with flaming robes, lit up by heavenly light.
Beautiful heavenly song accompanies the whole. All await the coming of Christ who will bless this passing.
The ultimate life, the cosmically perfect would descend
See the quotes from Lesson 28.9 and Lesson 28.10
-He saw a halo of light around both heads which he could clearly distinguish. He saw softer hues in her light than in his, which made him sense the masculine powers. His creative powers contained his intense strong light which linked up with hers. The lights flowed together, they were already connected in their aura.
He now saw many other miracles. The walls began to come alive and displayed entire scenes. He saw the universe, the stars and planets and the life of Christ pass by.
-Look, he felt, life is awaiting you. Life is waiting, you may enter higher spheres. Other planets were being shown, it was life which descended. Christ, the perfect Son of God was to come. In Him all were one. He, the cosmically roused, was about to descend.
-The two beings were like marble statues. Their garments blazed as they were lit by the heavenly light. All the angels concentrated themselves on this moment. André saw how something became visible within that golden sun. It was a being. He saw it clearly within this golden frame. Now it stepped forward, it was alive. The being remained enveloped in a haze but stretched out both arms and blessed the two angels. The holy moment had come, two lives were being admitted. As suddenly as the light had come, it vanished again. Christ, the Perfect Son of God had made Himself manifest. Angels sang, the mas- ters accompanied them, a mighty choir set in, it was one magnificent event, everything was love.
A View into the Hereafter p.377,378 
Source: Quotations from the books of Jozef Rulof