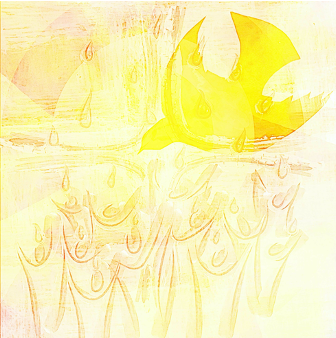 28.7 The Fifth Sphere of Light
The fifth sphere surpasses in beauty and light all previous spheres. There are countless beautiful colors and everything radiates light. Here man is completely one with plant and animal life. Every soul is also here together with its twin soul. From the spiritual spheres they go on together forever.
-And in a flash they were in the fifth sphere. This exceeded everything he had seen until then.
-Truly, everything was alive here. Life rejoiced, it was a glad song that could be heard from afar. He saw ineffable hues. Flowers such as he had never yet seen on earth. They were of a strange kind and they all radiated light. He heard soft, pure singing, life was breathing, these were sounds of the soul, which he heard.
A View into the Hereafter p.357
-His leader was wearing a beautiful luminous garment. He was rejuvenated and appeared in radiant beauty. Never before had he seen his leader like this. He was in his own surroundings, young like an angel.
-Man was one with the realm of plants and animals. One in all. Beautiful flowers flourished around the fountain. How mighty this symbol of love was.
A View into the Hereafter p.363,364
-André raised his eyes and looked at the heavenly being. By God, he thought, how beautiful, how pure this human being is! How great must her inner life be? A woman, dressed in a heavenly garment, was standing in front of him.
-There before him stood Alcar's twin-soul. Oh, how mighty everything was, and how great this event!
-Work on earth, André, live to do our work; I follow Alcar in everything and will keep on remembering both of you in my prayers.
-Here he felt how great a woman could be in love, how mighty her love was for the creative power, which meant twin-love.
A View into the Hereafter p 600, 601, 602,603
Source:Based on the books of Jozef Rulof